Snoop Dogg was the highlight of Golden Globe nominations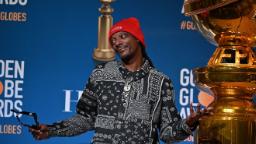 Rocking a red cap and a pair of shades indoors (as one does when one is a superstar), Snoop read off the names with smooth flair and a few pretty funny mispronunciations.
After referring to best supporting actor in a motion picture nominee Ben Affleck as "Been Aff-fleck," Snoop was quick to apologize to the Academy Award winner.
"My fault," Snoop said. "Sorry about that, Ben."
Affleck was nominated for his role in "The Tender Bar."
Snoop also struggled a bit with pronouncing Ciarán Hinds, who was nominated for best supporting actor in the film "Belfast."
"Work with me now," Snoop quipped as he tried to get it together.
---