The key to California Gov. Gavin Newsom's fate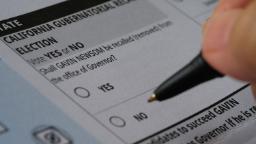 The Golden State's Democratic governor Gavin Newsom faces what is known as
a recall election
next month amid what was originally seen as a long-shot bid by conservative activists to oust him. To force the election more than a year before Newsom's reelection race, activists had to gather nearly 1.5 million signatures calling for the governor's ouster.
Voters will be asked on September 14 whether or not to keep Newsom on. Then a second question could come into play: Which of the candidates on the ballot would succeed him?
Given the political dynamics in California —
Joe Biden beat Donald Trump
by 30 percentage points last year — the recall shouldn't be close. But Democrats are increasingly alarmed. The state has been pounded by drought, wildfire and the pandemic, with successive waves of infection and restrictions. The governor didn't help himself last year when he
went to a birthday party
at the exclusive French Laundry restaurant after telling Californians to avoid large gatherings.
The key to Newsom's fate will be whether apathetic Democrats bother to vote. If he is recalled, even a Republican with a small proportion of the vote could take office.
Former Olympian Caitlyn Jenner was an early sensation in the race. Another Republican, businessman John Cox, opened his campaign alongside a live bear. But if the governor is toppled, the smart money is now on conservative radio host Larry Elder.
Afghanistan: 'There are going to be discussions'
Harris heads east
Kamala Harris is getting a do-over.
Harris will be making the most high-profile attempt yet by the Biden administration to sell its hardline policy towards China in the region. Tensions over territorial disputes in the South China Sea and elsewhere mean a careless word could spark a diplomatic incident.
A perpetual question of America's allies in the Asia-Pacific region is whether the US is really committed to its allies. Donald Trump's presidency deepened such uncertainty. And Biden's "America is back" mantra has been undercut by the chaotic retreat from Afghanistan. So showing up is important.
Of course, everywhere Harris goes she will also be evaluated as a potential future US President. Her visit ought to go smoothly, but it's still a tight rope.
---