Tom Hanks makes cameo in '1883'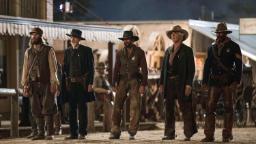 The Oscar winner appeared on the second episode of the Paramount+ show with Tim McGraw.
As it turns out, McGraw is actually old buddies with Hanks.
"You never want to botch a scene when you got Tom Hanks in there with you," McGraw told
Cinemablend.
"But yeah, he's a great guy. We've been friends for a long time. Rita, his wife, and Faith are best friends, and Tom and I've been friends for 25 years, 24 years. I knew that there was this part in there, and I gave him a call said, 'Hey, would you be interested in showing up doing a cameo in this show that we're doing?' And he goes, 'Tell me when to be there,' and he just showed up.'"
---